About Pritchard Wilson
Our Story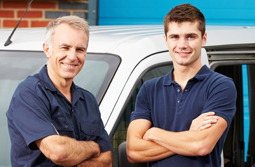 Pritchard Wilson is a part of a group of companies which merged with Mastercraft Heating, Cooling & Plumbing to better serve residential and commercial customers throughout Michigan with superior heating, cooling, refrigeration, and plumbing sales and service. With an emphasis on innovation and energy efficiency, Pritchard Wilson is poised to meet the challenges of the 21st Century with greener products that save energy and money. Pritchard Wilson holds Michigan licenses for all residential HVAC-related applications as well as Master and Contractor licenses for plumbing work. Pritchard Wilson is also a member in good standing of the Better Business Bureau.
An Emphasis on Training

Pritchard Wilson is committed to employing the most knowledgeable and seasoned technicians available. Employees go through a pre-hire examination that tests their knowledge of code, system operations, and field expertise. Once hired, our technicians regularly attend code seminars and factory training sessions to keep up to date on the HVAC and plumbing industries.
Pritchard Wilson's emphasis on training and field expertise is ingrained in the corporate culture. We have over 20 years experience in the HVAC fields (Heating, Ventilation, and Air Conditioning). We also have extensive training in boiler installation, water heater service, and TracPipe installation.
Additionally, we are very active in several industry and community associations, including the Livonia Chamber of Commerce, ACCA (Air Conditioner Contractors of America), Michigan ACCA, BNI, and BSF International.